75 Hours of Giving
12:00 Noon, Sunday, April 22 –
3:00 pm, Wednesday, April 25
This past year we began our celebration of our 75th year as a congregation. As we reflect on the past 75 years we recognize that our witness and worship has been sustained by families and individuals who have given in support of our mission and vision. Over the past 75 years gifts, both large and small, have supported and strengthened us to "Love God. Love our neighbor."
As our mission grows, so do our needs. We invite you to "save the date" for our end-of-year giving campaign. We are seeking to raise $75,000 in 75 hours to bridge the gap between our expected annual income and our actual offerings and gifts. During these 75 hours we will be asking you to consider an end-of-year gift, share in the excitement on social media and pray for our continued mission and ministry.
Thank you for the many ways participate in the life and ministry of RLC!
Matching Gifts During Campaign
NEW SUSTAINERS: Goal of 30 New Sustainers
Give $1 a Day = Your gift is matched, dollar for dollar!
For every new sustainer who signs up online to give
$30/month ($1/day), your gift will be matched!
TEXT TO GIVE: Goal of 50 New Text Givers
Text $25 to 651-383-1504 = Your gift will be doubled (2 for 1)!
Every Text to Give gift of $25 will be doubled 2 for 1!
Help us reach this goal by Sunday, April 22 at Noon!
Experiences
(Click to enlarge)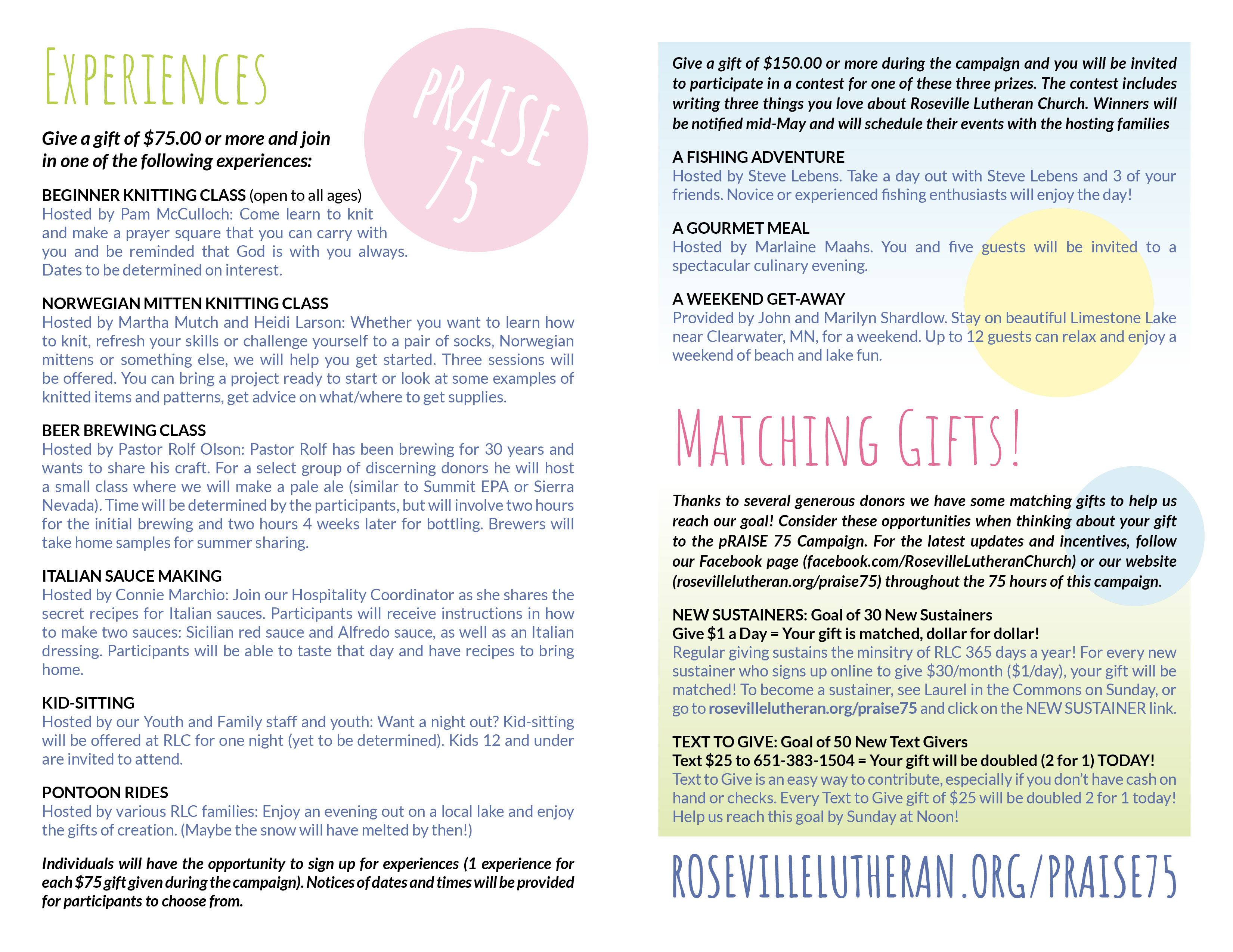 Follow RLC on Facebook (facebook.com/RosevilleLutheranChurch) and check this page for updates throughout the campaign. Join the excitement!