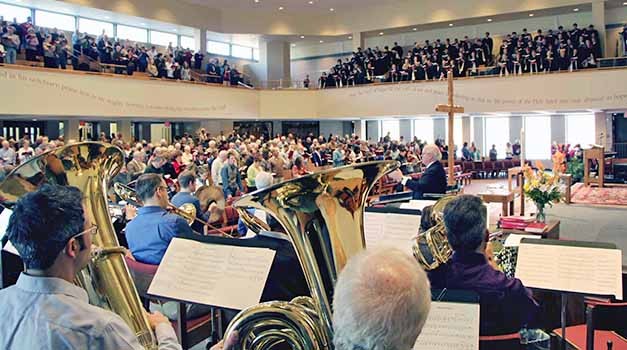 Weekly Rehearsal
ScheduleRLC Jazz
We respond to God through joyful singing and playing, giving honor to the church's great musical heritage, and embracing new song. Musicians of all ages and experiences are invited to participate!
Senior Choir
Our adult choir of 40-50 singers performs a variety of traditional and contemporary choral literature, both accompanied and a cappella, singing for worship three Sundays per month and for special events and concerts.
Rehearsal: Wednesdays at 7:00 p.m. - September to May
Director: John Helgen
Handbell Choirs
Our two handbell choirs, Jubilate and Bells of Praise, play monthly at worship and at special events and concerts. Join in the ringing, learn about handbell skills, and enhance our worship experience.
Rehearsals: Wednesdays - September to May
Bells of Praise at 6:25 p.m., Jubilate at 7:30 p.m.
Director: Lori Haaland
Youth Praise Band
Vocalists and instrumentalists grades 6-12 provide music for Wednesday night youth activities and also lead music for the 11 a.m. Sunday worship from time to time. Come and experience the energy!
Rehearsal: Wednesdays from 6:00 - 7:00 p.m. - September to May
Director: Kristina Olson
Children's Choir
This choir for grades K-5 is a great opportunity for children to get involved in singing.
Rehearsal: Sundays from 9:20 - 9:55 a.m. - September to May
Director: Ariel Wilberg
Praise and Worship Ensembles
These vocal/instrumental ensembles provide music and congregational leadership for the 11:00 a.m. worship service each week. Informal audition encouraged.
Rehearsal: Thursdays at 7:00 p.m.
Director: John Helgen
RLC Brass
This intergenerational brass ensemble rehearses twice per month and plays for worship throughout the year. Intermediate to advanced proficiency suggested.
Rehearsal: Specific Wednesdays at 6:00 p.m. by schedule
Directors: John Helgen and Jeff Bowar, 651.225.4943
Roseville Lutheran's jazz ensemble – 13 horns plus rhythm section – plays for worship as well as special events.
Director: John Helgen
Instrumentalists and Vocalists
Attention all players and singers, present and past: put your gifts to use! Solos and ensembles are encouraged for use in worship and for special events, and we are always needing pianists and accompanists.
Contact: John Helgen