Beatrice Marie Anderson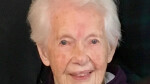 Celebrating the Life of Beatrice Marie Anderson
January 30, 1924 – October 21, 2018
Date of Funeral: Monday, October 29 2018 - 10:30 am
Roseville Lutheran Church
Mom was born on the family farm in Foreston, Minnesota, to Ole E. Solberg and Anna Gurine Kjaglien Solberg. She was the youngest of 10: brothers, Adolph, Harold, Ragnvald (Bernard), Arthur, Otto, and Melvin; half-brothers, Earl and Nels (George); half-sister, Anna (Margaret). Mom graduated from nearby Milaca High School. Her father died when she was just 13. Many of her siblings had already left home, so she and her mother were left with a fair amount of the responsibility managing the farm.
Mom married Mentzer (Andy) Anderson on June 22, 1946 at Trinity Lutheran Church in Milaca. Her brother, Otto, was one of Dad's close friends while they served in the U.S. Army and thought Dad might be interested in his little sister so he introduced them. They met just a few times before Dad had to ship out, so they corresponded for months. Shortly after Dad returned he asked Mom to be his wife. They soon welcomed their children, Cheryl, Dawna, and Everett (Ev).
Over the years Mom had several jobs including salesperson, office employee, nurses aide, and school cook. While raising her young family, Mom took in ironing to supplement the family income. Above all, being wife/ mother/homemaker was the job she felt most important. Nothing went to waste in our family. Dad was an avid gardener, and Mom made sure to use everything he grew. From mid-Summer til Fall you could find Mom in the kitchen canning, freezing, juicing, or making fresh items from the fruits and vegetables.
She also loved to bake. There were always cookies, cakes, breads, and other goodies available for us. When not in the kitchen, you might find her at the sewing machine working on clothes for her family. After retirement, Mom pursued many activities which included participating in the quilting group, assembling bulletins, helping in the kitchen, or doing small maintenance projects at church and volunteering on a regular basis at the Presbyterian Homes. Music, camping, traveling, playing cards and games were also important. More than anything, Mom cherished her family and friends and was skilled at making us want for nothing. Ev recently stated, "We never had a lot, but we always had enough." There is no doubt that her faith in God made her the nurturing person she was.
Mom has struggled with health and memory issues over the past several years, but faced them with courage. We were lucky to have her as our mother and grandmother. We believe her grandchildren (Eric, Matthew, Weston, Anna, Maggie, Braden, and Bailey) and great-grandchildren (Kylie and Brooke) have learned some important lessons having known her.
Thank you all for celebrating her life with us.
— Cheryl, Dawna, Ev