Click here for a print-friendly version our Annual Appeal Brochure.
Complete the "Intent to Give" form on the bottom of this page, or click image below.

Your Gifts Make Our Ministry Possible!
During the Annual Appeal in October, we ask all members to provide their Intent to Give over the coming 12 months. We rely on member gifts to support and sustain our day-to-day ministries, including worship services, educational and community ministries, hospitality, staffing, communications, building maintenance and utilities; and technology and supplies.
Take some time to explore how your gifts support ongoing and new initiatives at Roseville Lutheran Church. Then, click here to share your Intent to Give, or fill out the form you received in the mail and return it to Roseville Lutheran Church by Sunday, Oct. 22.
"When I think about giving to the church,
(I know) our time and resources
go directly to help others."
– RLC Member

How Can I Participate?
The annual budget for 2023-2024 is $1,410,000. This budget is supported by your gifts!
As you consider your Intent to Give, keep in mind the following:
In 2020 there were 44 households that completed an Intent to Give
In 2021 there were 56 households that completed an Intent to Give
In 2022 there were 155 households that completed an Intent to Give
This year we would like to
double that number with a
goal of 300 households
completing an Intent to Give
during the month of October!
We are also challenging all members to increase their annual gift by 10% to support our shared ministries. This increase in giving will insure the ongoing, daily ministries of our community, as well as provide resources to achieve our strategic goals in 2023-2024.
For example, a 10% increase in your weekly or monthly gift moves from $25.00 to $27.50, $75.00 to $82.50, $100.00 to $110.00, $125.00 to $137.50, $150.00 to $165.00.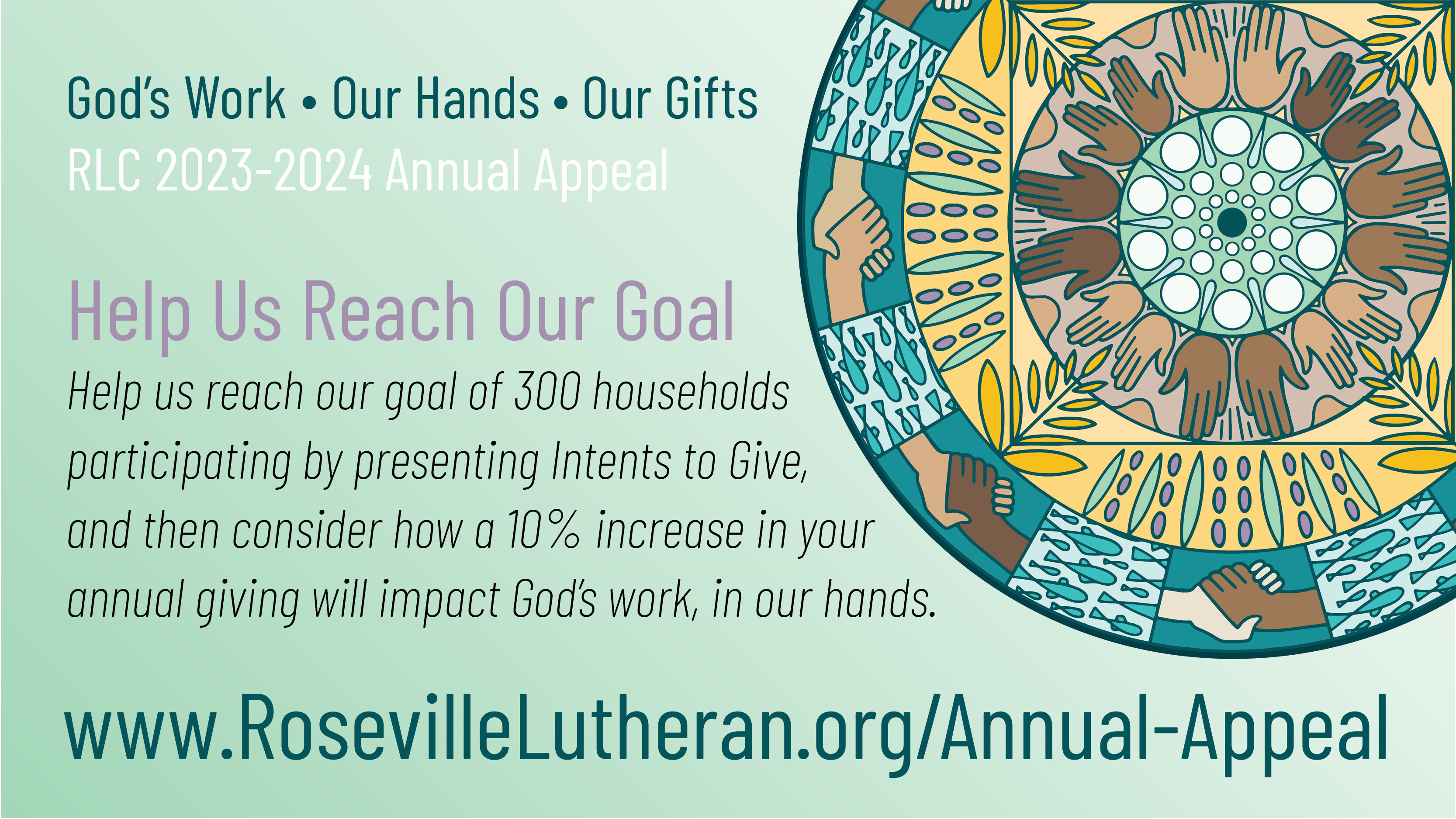 Become a Sustaining Member of Roseville Lutheran Church
Sustaining members are those who provide a gift of any amount on a regular basis. Some examples of this are:
Recurring gifts through online giving: www.rosevillelutheran.org/givenow
Recurring gifts through offering envelopes
Regular gifts from IRA Qualified Charitable Distributions, Donor-Advised Fund grants, or stock gifts
Are You Already a Sustaining Member?
Thank you for your gifts! All gifts given, large or small, are used to support our mission and vision. Please complete an Intent to Give card and prayerfully consider increasing your recurring gift by 10%.
"We were grateful to be in a position
to increase our gifts to RLC for
those in need in our community."
– RLC Member