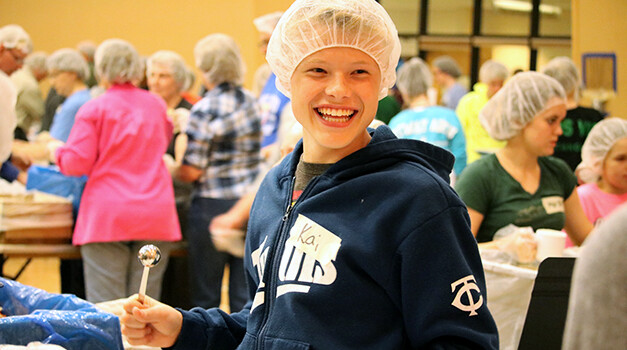 There are so many ways to serve and give through the ministries of Roseville Lutheran Church. People of all ages participate as volunteers, actively giving of their time in serving neighbors and friends. Opportunities to give financial support to specific ministry appeals as well as to the general operation of the congregation are also available.
On the right side of this page, you will see links to areas awaiting your participation and support. You can serve with our children and youth, in worship, through our hospitality ministry, and in the local and global community, as well as give your financial support.
Have a special gift to share? Contact and we'll get you connected to the right ministry

People around the world are impacted in ways we don't even know. How do you measure the impact of a fresh-water well to a village in Tanzania? How can we quantify what the gifts we send to Lake Wappogassett Bible Camp can do? Our partners in Peru, in Slovokia, and in the Twin Cities are not only supported to do ministry, but encouraged that a suburban congregation in Minnesota cares enough to join them in their vital work.
And to be clear, we don't just send money; we also send people. Dozens of RLC members have traveled to Slovakia to share the good news of Christ there. Others have visited our companion congregation in Ng'ang'ange, Tanzania. And how proud are we of our youth ministry teams as they go on mission each summer to be the hands and the lips of Jesus Christ?
Your time, and your talents, your hearts, and your treasures fuel this worldwide effort to fulfill the great commission. All of this is a cause for celebration!