I Am RLC: Leon and Alice Neve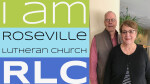 "I Am RLC" is an on-going story series that, over time, will give glimpses of who we are as individuals within the community of Roseville Lutheran Church. Periodically we'll learn from members, friends, and staff about what is important to them, what draws them here, and why they are engaged with and support the RLC community.

I am RLC: Leon and Alice Neve
What initially brought you to RLC?
Thirty five years ago we were looking for a congregation with an active youth program for our four children who were in the elementary grades at that time. In addition, the depth and quality of a congregation's music program was and still is very important to us.
How are you currently involved at RLC?
We are part of Our Neighbors and Me leadership; Roseville Area Interfaith Community; as well as St Paul Area Synod's Anti-Racism and Justice Work Group. Leon has been one of the RLC tutors serving at Central Park School for three years.
How do you live out the RLC mission: Love God, Love Your Neighbor?
Prior to our retirement, Leon was a Guidance Counselor for St. Paul Public Schools and Alice was a Public Service Manager and Librarian for St. Paul Public Libraries. For over 30 years, we both served a richly diverse community of students and families in St Paul. We are parents in an inter-racial family and in retirement we continue to advocate for the needs of our children, grandchildren and for the needs of all members of our community.
What is one ministry that is memorable to you?
Serving our community as part of Our Neighbors and Me and the development of RLC's tutoring program at Central Park School.
What advice would you give to someone just joining RLC?
Take every education opportunity available (as you are able) during the 10:10 hour on Sundays and throughout the week to strengthen your faith and awareness of service opportunites in our community.
What do you hope for the future of RLC?
We hope that RLC will continue to become more visible in our diverse community as a congregation that loves, serves, and responds to the changing needs of our world.
What would you consider to be your greatest achievement?
Seeing our children and grandchildren being caring and loving members of the communities in which they live, love, learn and work.
One last question and just for fun: If you could take a trip anywhere, where would you go?
We would travel more to our ancestral homes in Denmark perhaps living several months in Arhus, Skagen or Odense.