Stories of RLC: FMSC 2019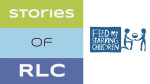 It is the 5th year of Roseville Lutheran's partnership with Incarnation Lutheran Church of Shoreview (4880 Hodgson Road) to pack meals for Feed My Starving Children. The 2019 dates are Monday, April 29 through Thursday, May 2. Online sign-ups began on Ash Wednesday, March 6.
Feed My Starving Children (FMSC) is a Christian non-profit organization started in Minnesota that is dedicated to providing nourishing food to starving children worldwide. They currently are working with partnering organizations in over 70 countries to get food to the children. They rely on volunteers to pack all of the nutritionally formulated food with more than half of the volunteers under the age of 18. The volunteers also help to pay for the dried ingredients of veggies, vitamins, soy and rice that are packed into each MannaPack. FMSC does not receive any government aid to help pay for the ingredients. The cost of all the ingredients must be paid for before the packing event.
Ways to get involved:
Sign-up as a group, family or individual to help pack food. Click here to select a specific two hour shift (sign-up for more than one shift if you wish). Remember to wear your blue RLC shirts! There is a nursery available at Incarnation for the day time shifts and the 5pm to 7pm shift, but you MUST sign-up ahead of time for the nursery.

Donate to help pay for the ingredients that will be packed. Each meal cost only 22 cents! RLC has committed to pay for 100,000 meals, which is $22,000. Any and all amounts are greatly welcomed to help pay for the ingredients. Make donations to Roseville Lutheran with Feed My Starving Children in the memo. New this year is the option to make donations via www.give.fmsc.org/allhandsonroseville. Help RLC meet the goal of at least $22,000 to pay for the ingredients that will be packed at this event.Donations welcome NOW via the weekly offering plate or online.