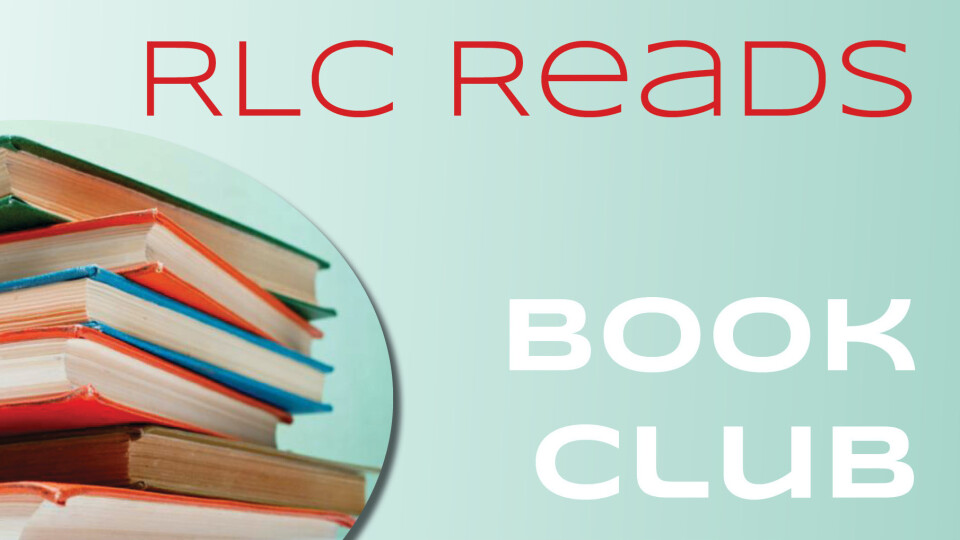 Monday, November 20, 2023, 7:00 PM - 8:00 PM
Fall is an exciting time of year for many reasons, and the unveiling of the new RLC Reads Book List is one of them. Please look over the summaries of the books and plan to join us as often as you can this year. All are welcome, whether you come once, twice, or eight times! Even if you didn't quite get to finish the book, come anyway and share your thoughts (and feel free to bring a friend).
Note that we'll be meeting on the THIRD Monday of the month at 7:00 PM in the Upper Lobby, just inside the north entrance. Hope to see you there! If you have any questions, please contact Bob Bergstrom at
Book List/Calendar
Nov. 20:
Together: The Healing Power of Human Connection in a Sometimes Lonely World by Vivek Murthy
As the current Surgeon General of the United States, Dr. Murthy is very aware of the public health concerns facing us. In this new book, he describes loneliness as a deadly epidemic and offers solutions and strategies to overcome it. Reviewers have called this "the most important book you'll read this year". "It's fascinating, moving, and essential reading, and it will help make the world a better place for everyone. Read it, then pass it on." (2023, 352 pgs) (suggested by Alice Neve)
Jan. 15: (MLK Day)
We Will Be Free: The Life and Faith of Sojourner Truth by Nancy Koester.
Local ELCA pastor and historian Nancy Koester "chronicles the spiritual journey of Sojourner Truth as an enslaved woman, a working mother, a preacher, and activist." This is a fascinating look at the life of the legendary abolitionist and how her strong faith in God drove her actions. With some states today denying the legacy of slavery and segregation, this life of Sojourner Truth inspires us and reminds us of her courage and passion for justice. (2023, 293 pgs) (suggested by Nancy Olson)
Feb. 19:
Poverty, By America by Matthew Desmond
This was named one of the most anticipated books of 2023 by several major publications, and it's easy to see why. Desmond unflinchingly answers the question: Why does the United States have more poverty than any other advanced democracy? The acclaimed sociologist shows how affluent Americans knowingly and unknowingly keep poor people poor. "Elegantly written and fiercely argued, this compassionate book gives us new ways of thinking about this morally urgent problem, and helps us imagine solutions." (2023, 304 pgs) (suggested by Dave and Karen Dudley)
March 18:
Solito: A Memoir by Javier Zamora
Named one of the best books of the year by several reviewers and winner of multiple awards, Solito will immerse you in the migrant experience like no other book. Nine-year-old Javier takes a harrowing 3,000-mile trek from his small town in El Salvador, through Guatemala and Mexico, and into the United States. Traveling to be reunited with his parents, he's alone on this two-month journey with a group of strangers, facing pointed guns, arrests, and dangerous desert crossings. Javier's treacherous trip also reveals unexpected kindness and love in this gripping memoir. The LA Times says, "You will be changed by this extraordinary book." (2023, 416 pgs) (suggested by Dana Ochocki)
April 15:
Disability Visibility: First Person Stories from the 21st Century edited by Alice Wong
With 37 powerful narratives by people living with a disability, Alice Wong shows us the depth of everyday courage and their extraordinary capacity to face life's adversities. 15% of people around the world have a disability, yet their stories are rarely told. This collection celebrates and documents the lived experiences, power, and culture of the diverse disabled community. This book will educate and inspire you. (2020, 336 pgs) (suggested by Paula Olander)
May 20:
We Should Not Be Friends: The Story of a Friendship by Will Schwalbe
This is a "warm, funny, irresistible memoir that follows an improbable and life-changing college friendship over the course of forty years." Will is an artsy Latin and Greek major who avoids "the jocks" at his college, but somehow he meets Maxie, the school's star wrestler and ultimate jock. The two form an unlikely friendship that takes them through marriages, divorce, triumphs, and devastating losses. This book tracks their challenges and changes over the years, and artfully shows us how we may find some of our greatest friends if we can just get over our preconceptions. (2023, 336 pgs)