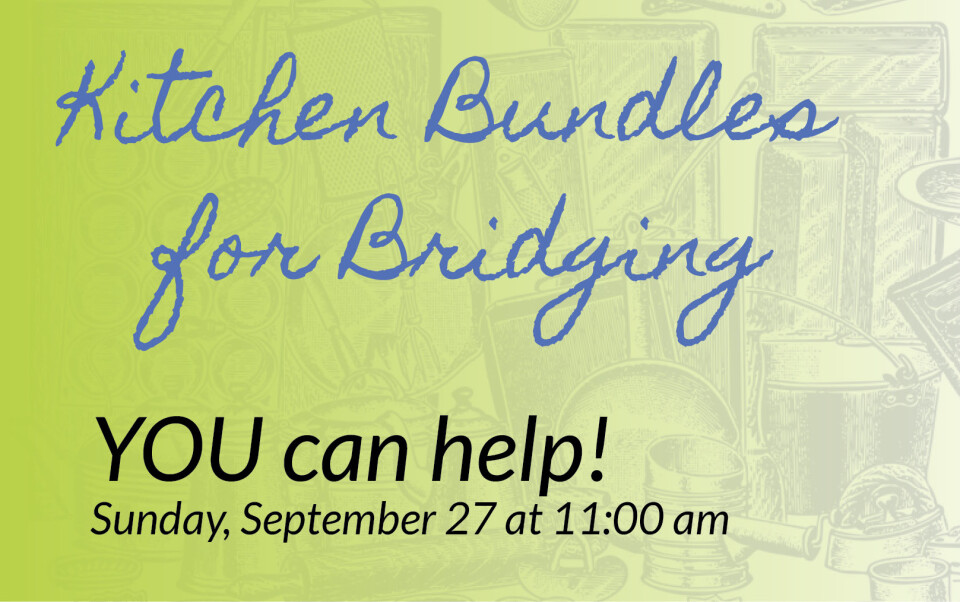 Sunday, September 27, 2020, 11:00 AM - 12:00 PM
Sunday, Sept. 27, beginning at 11:00 am – Lower Entrance/sidewalk/parking lot!

Help us assemble kitchen bundles RELAY-STYLE to support Bridging, an organization that provides basic home essentials to those transitioning from homelessness.

We will have tables set up with supplies. Each family unit in line will assemble a kitchen bundle, put it in the blue bin, and follow the fun chalk obstacle course to get back in line to do another bundle. When a table opens up, the next person in line puts together a bundle! Hand sanitizer will be used and tables will be wiped off and at a distance for safety.

Click here and sign up to let us know you are coming and we can include you in our plans!
You can bring donations of kitchen utensils, towels, dishcloths, or potholders when you come. If the weather prohibits us from doing this outside, we will reschedule on Oct 4th.