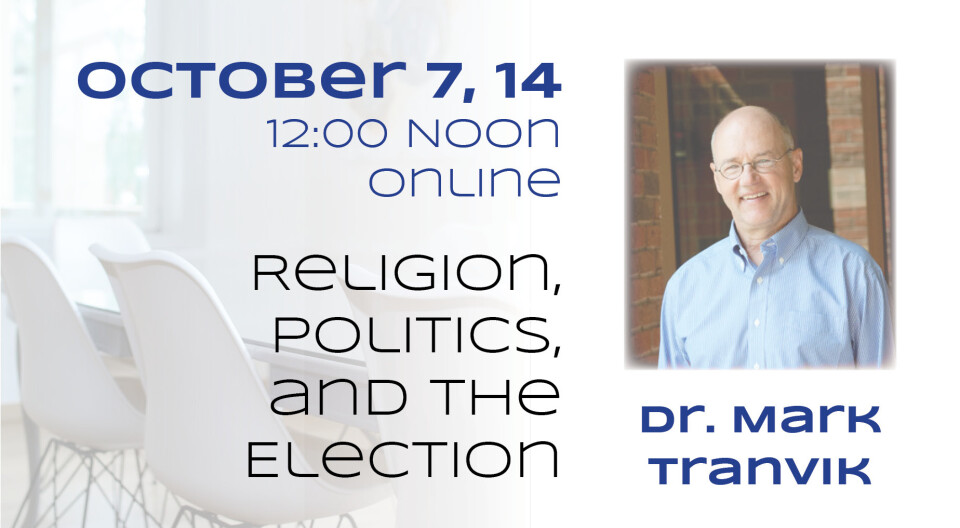 Wednesday, October 14, 2020, 12:00 PM - 1:00 PM
On Wednesdays, October 7 and 14 we welcome Dr. Mark Tranvik as our presenter for this adult forum video. As Christians we are called to be citizens. What does this mean for the election in November? How might our Lutheran faith inform our hearts and minds? Two main points to be discussed include:
Martin Luther the Politician
Faith and Politics
Classes are Presented on the Forum Page
Click here to go to the Forum page where our adult education classes and podcast episodes reside. Look for "Religion, Politics, and the Election" at the top of that page starting at 12:00 noon on Wednesdays, Oct. 7 and 14. The presentation will remain on the Forum page, so you can watch at anytime in the future at your convenience.
The RLC Adult Ed Committee has planned special educational sessions for this fall. Our series of programs will be presented as online video or Power Point presentations. These programs will be recorded and you can view them at your convenience once they've "aired." We plan to release new presentations the first and second Wednesdays of each month.