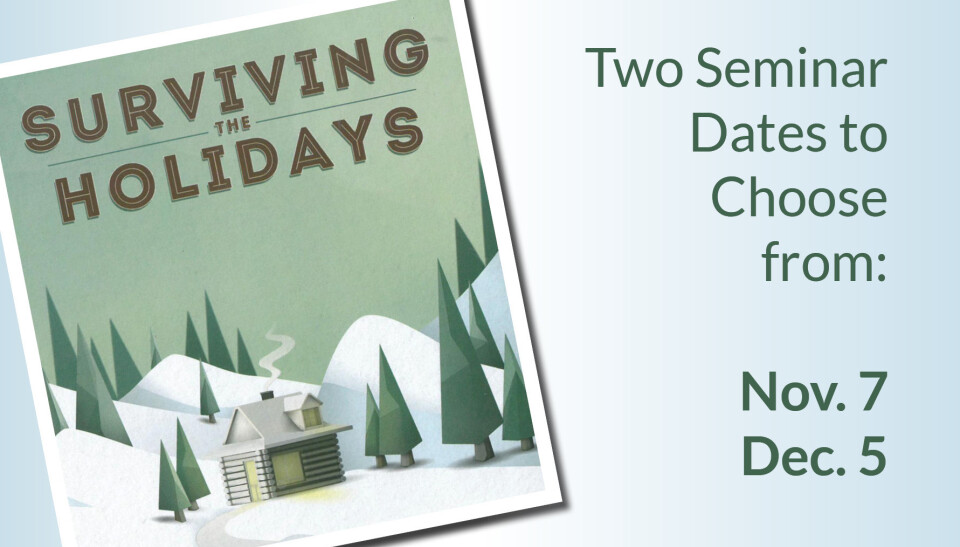 Saturday, December 05, 2020, 9:00 AM - 11:30 AM
Soon the holiday season will be upon us. This might be the first holiday after your loved one's death, or maybe it's the second, third, or beyond. In the days leading up to Thanksgiving and Christmas with its focus on family and yearly traditions, expectations and "cheer" the emotions can blindside you.
Surviving the holidays is here to help. Join Diane Sell and others who has lost loved ones over the years for a 1-day seminar. We will watch video clips from leading experts in the field of grief and be a part of a discussion group. You will receive a survival guide with daily encouragement and helpful exercises for the days ahead. Sign up begins October 1. There are 2 dates to choose from, Nov. 7 and Dec. 5.
1. Video Seminar encouraging, information-packed videos featuring leading grief recovery experts.
2. Support Group that will have small group discussion about the video content.
3. Workbook Journaling and personal study exercises that reinforce the weekly session topics.
For more information, please contact our coordinator, Diane Sell at 651-487-7752 or .