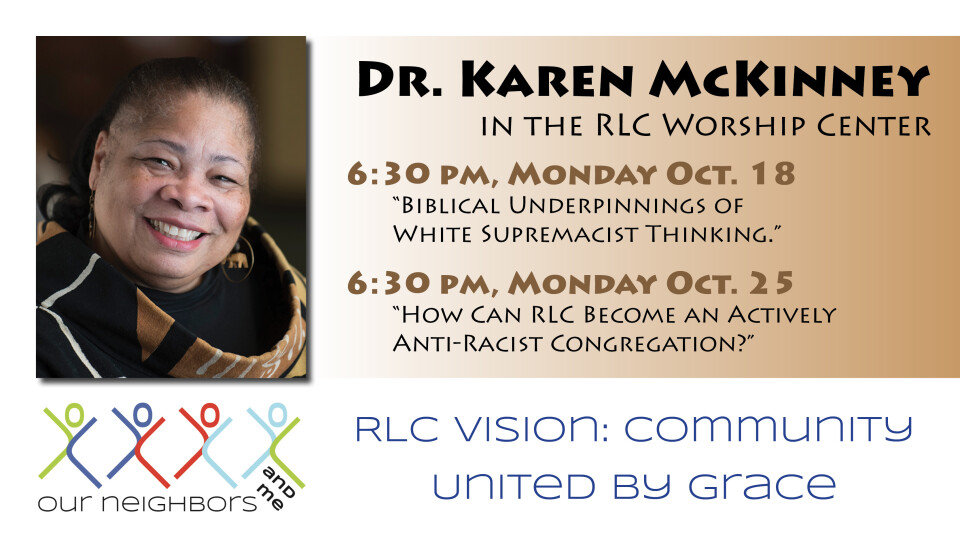 Monday, October 18, 2021, 6:30 PM - 7:30 PM
RLC's Our Neighbors and Me (ONAM) is welcoming back Dr. Karen McKinney, Chief Equity Officer at the MN Department of Human Services. Dr. McKinney is a familiar guest at RLC, having presented many times in the past five years. As a Christian and an African-American, she is a valuable resource for our congegration, having served as a Professor of Theology at Bethel University for over 20 years.

Dr. McKinney will deliver two presentations in the RLC Worship Center on two Monday evenings in October, from 6:30 - 7:30 PM. COVID protocols in place (masks required, and socially distanced). Following her talk, there will be time for Q and A.
Connect • Explore • Act
Dr. McKinney will explore the current uses of the terms "white supremacy" and "anti-racist." She will provide the quiet, thoughtful space we need as Christians to explore our understanding of racial injustice and needed change. She will lay out a path that RLC can take in order to develop tools that address challenges in our church and community.
Monday, October 18
"Biblical Underpinnings of White Supremacist Thinking"
Monday, October 25
"How Can RLC Become an Actively Anti-Racist Congregation?"
Registration is not required but highly recommended. Call the Church Office to sign up at 651-487-7752.