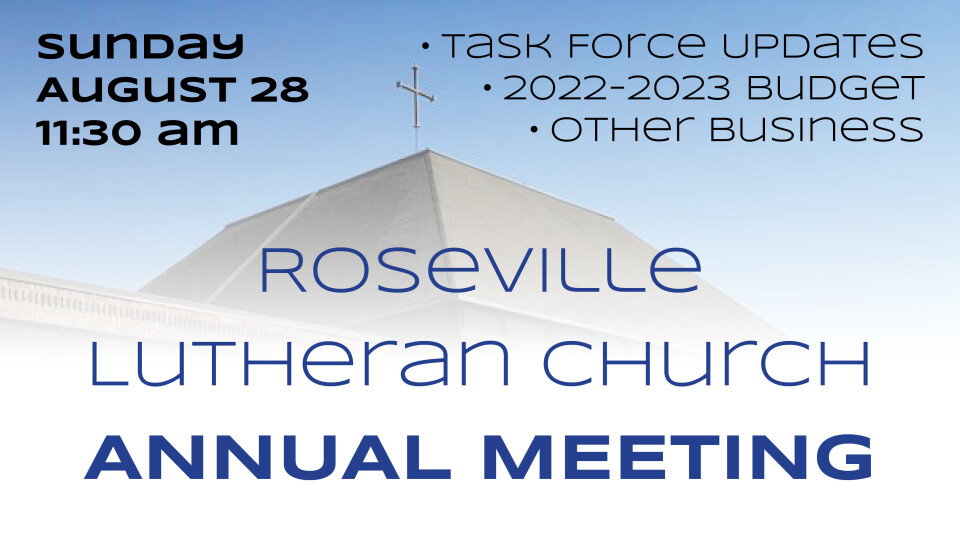 Sunday, August 28, 2022, 11:30 AM - 1:00 PM
The RLC Annual Meeting is set for Sunday, August 28 at 11:30 AM (immediately following the 10:30 am worship service) in the Worship Center at RLC. Click here to view the Annual Report.
Who may vote
From the RLC Constitution: "Voting members are confirmed members. Such confirmed members, during the current or preceding calendar year, shall have communed in this congregation and shall have made a contribution of record to this congregation."
If you have questions about your membership status, please contact Laurel Hofeldt in the church office at 651-487-7752
You may also attend the meeting via Zoom.
If you have trouble signing in on Sunday, please call the office at 651-487-7752.
Click here for the Zoom link for our 11:30 am Annual Meeting.
Proposed Agenda
Call to Order
Approve agenda
Approval of minutes
2021 Annual Meeting minutes
February congregational meeting
President's report
President elect's report
Congregational vote to ratify RLC Constitution as presented to synod
Call CYF leader
Candidate presentation
Q & A
Congregational vote
Election of lay leadership
Vote proposed budget for 2022-2023
Adjournment