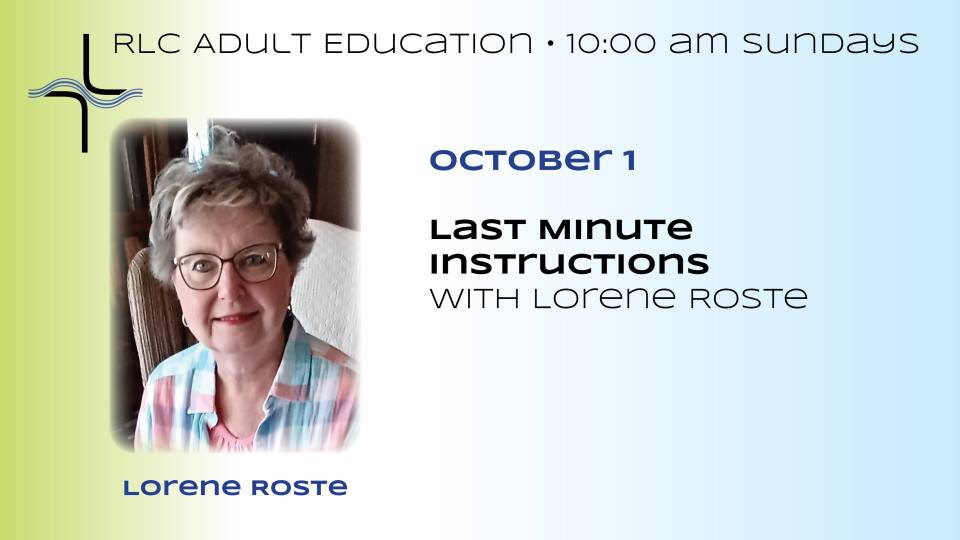 Sunday, October 01, 2023, 10:00 AM - 11:00 AM
Adult education opportunities are held at 10:00 am most Sundays in the Social Hall. All are welcome to bring a cup of coffee and engage with the topic of the day.
Oct. 1
Last Minute Instructions
with Lorene Roste
Some day you may become incapacitated – at any age, for any reason – health, issues, accident, something usually beyond your control. Are you and your family ready? Does the person designated as your power of attorney or estate representative know what insurance policies you have? What credit cards need to be cancelled? How to get into your computer or phone with your passwords? etc., etc.
If you are not ready, consider attending this class called "Last Minute Instructions." It will be offered at RLC during the adult education hour on Sunday, October 1, from 10:00 - 11:00 am. A $5.00 donation can be made towards the binder you will get to record your family's information.
Click here for a PDF of the contents of the binder that you can print and fill out.
The class will be taught by RLC member Lorene Roste, an Augsburg University graduate in business education, who was employed in the FInance Department of Health Partners for 14 years, taught business courses at 2 community colleges, and owned her own business for 15 years helping people organize their homes and businesses, and helped seniors downsize, pack, move and unpack.