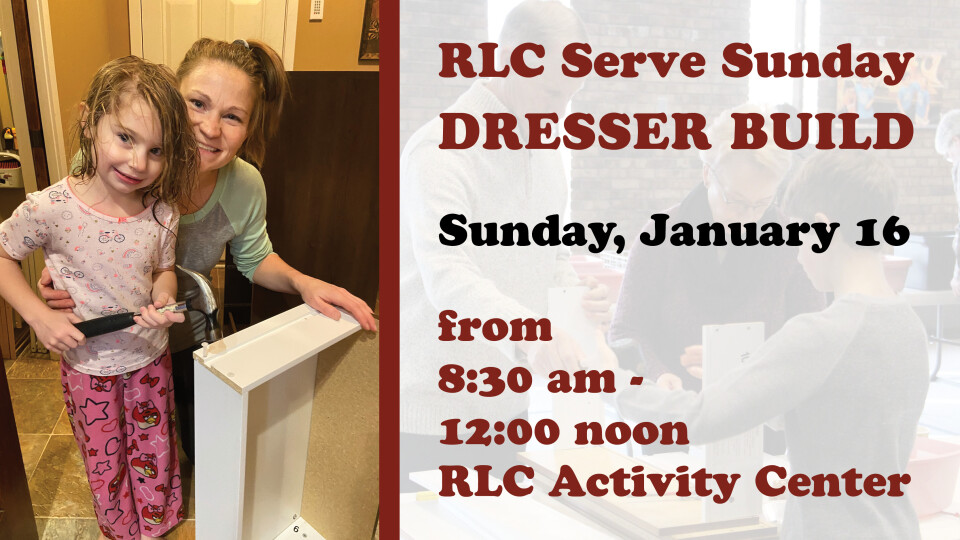 Sunday, January 16, 2022, 8:30 AM - 12:00 PM
Serve Sunday is January 16
Dresser Build for Bridging!
All are invited to participate in Serve Sunday to benefit clients of Bridging, a local organization that helps people get back on their feet and into homes of their own by supplying home furnishings and things many of us take for granted. We will be assembling dressers for Bridging in two ways. You can pick up a dresser kit at RLC and assemble it at home and bring it back to RLC by Jan. 20, or you can participate in the Dresser Build on Sunday, Jan 16th from 8:30 - noon in the Activity Center. Last year we offered the "Take and Build" option and the response was amazing. Confirmation kids and their leaders will be building dressers as part of their Confirmation session on Wednesday, Jan. 12. Help be a blessing to the clients of Bridging!
Blankets Are Also in Need
We would like to ask people to donate new or gently used blankets for Bridging on January 16, in addition to building dressers. With the cold weather we are having, blankets are much needed! This will give those cannot build a dresser (or those with young children) a way to participate in support of Bridging. In non-Covid times we would also have a Kitchen Bundle assembly but that is not feasible at this time.