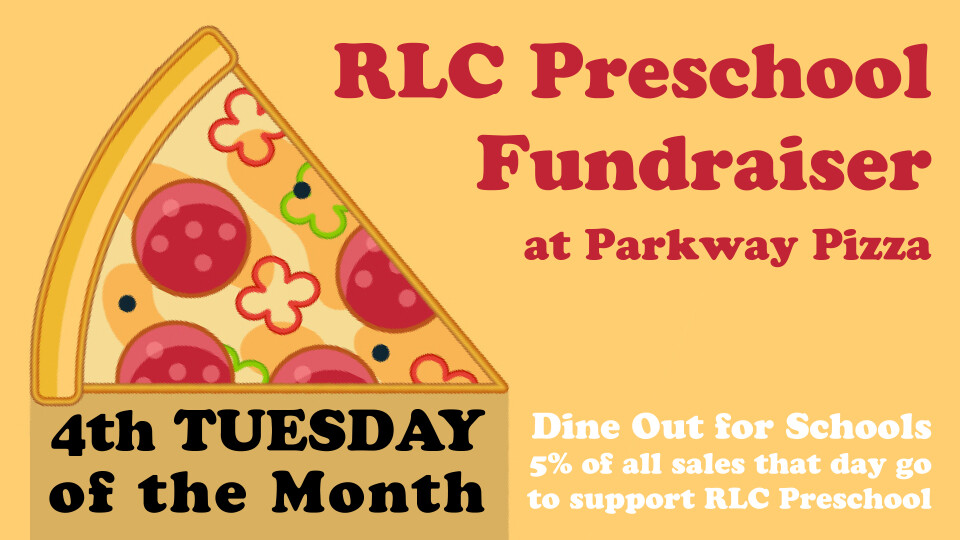 Fourth Tuesday from 09/27/2022 to 06/27/2023
NOW on TUESDAYS!
Parkway Pizza is again partnering with RLC Preschool to bring you an amazing fundraiser, Dine Out for Schools. 5% of total sales for the day goes directly to Roseville Lutheran Preschool. No code, no need to mention that you are with RLC...5% of total sales for the day are donated to RLC Preschool. This is truly the best way to support two local businesses! And you get to eat pizza too!
The fundraiser is on the 4th TUESDAY of the month, from September 2022 until June 2023. Just think you have one day a month you don't need to cook dinner or think about lunch for that matter. Parkway Pizza has amazing sandwiches and salads too! Order online, take out, eat in, drive up anytime on the 4th Monday of the Month! (2022: Sept. 27, Oct. 25, Nov. 22, Dec. 27, 2023: Jan. 24, Feb. 28, March 28, April 25, May 23, June 27).
Parkway Pizza is located at 1909 Lexington Avenue North, Roseville 55113, www.parkwaypizzamn.com/menu or call (651) 493-4360.