Prepare the Way of the Lord
Preparing a People of Faith - Living into our Future at RLC
"Prepare the Way of the Lord" is about opening ourselves to what God will do and is doing among us. We don't get to decide for ourselves what will be God's work in this church. We can only get on board of the righting and healing God is already doing.
So, preparing is about listening to and exploring the changes that God is making in our communities, the "redemption" taking place in real circumstances. Wherever creating and new ideas come about, that is God's Holy Spirit acting. Wherever caring and nurturing occur, that is God's Holy Spirit loving. Wherever correction and healing happens, that is God's Holy Spirit redeeming. Wherever people forgive and seek to make amends, that is God's Holy Spirit reconciling us to each other and with God's self.
Preparing is about seeing God's Spirit moving in our communities. Preparing is also about examining our habits and assumptions in order to realign ourselves to what God is asking of us. Our core values as a congregation, our traditions, our preferences, many good and wholesome, are aligned to what God is calling this church to be.
Preparing is finally about recommitting our own selves and this church to God's preferred future. Fostering a generous spirit that thinks the best about and seeks the best for another is a mark of God's Spirit within. Celebrating diversity and nurturing curiosity opens awareness of how grand and magnificent is God's work. God's world is more marvelous than our imagination, and preparing is allowing our vision to expand beyond presumptions.
Preparing Blog
One way to take part is to join in conversation with others! We will have a blog called "Preparing" that will present ideas and questions and will invite your thoughts and comments. Click the image below, or go to www.rosevillelutheran.org/preparing to view the posts and ponder the questions as they are added to over the coming weeks.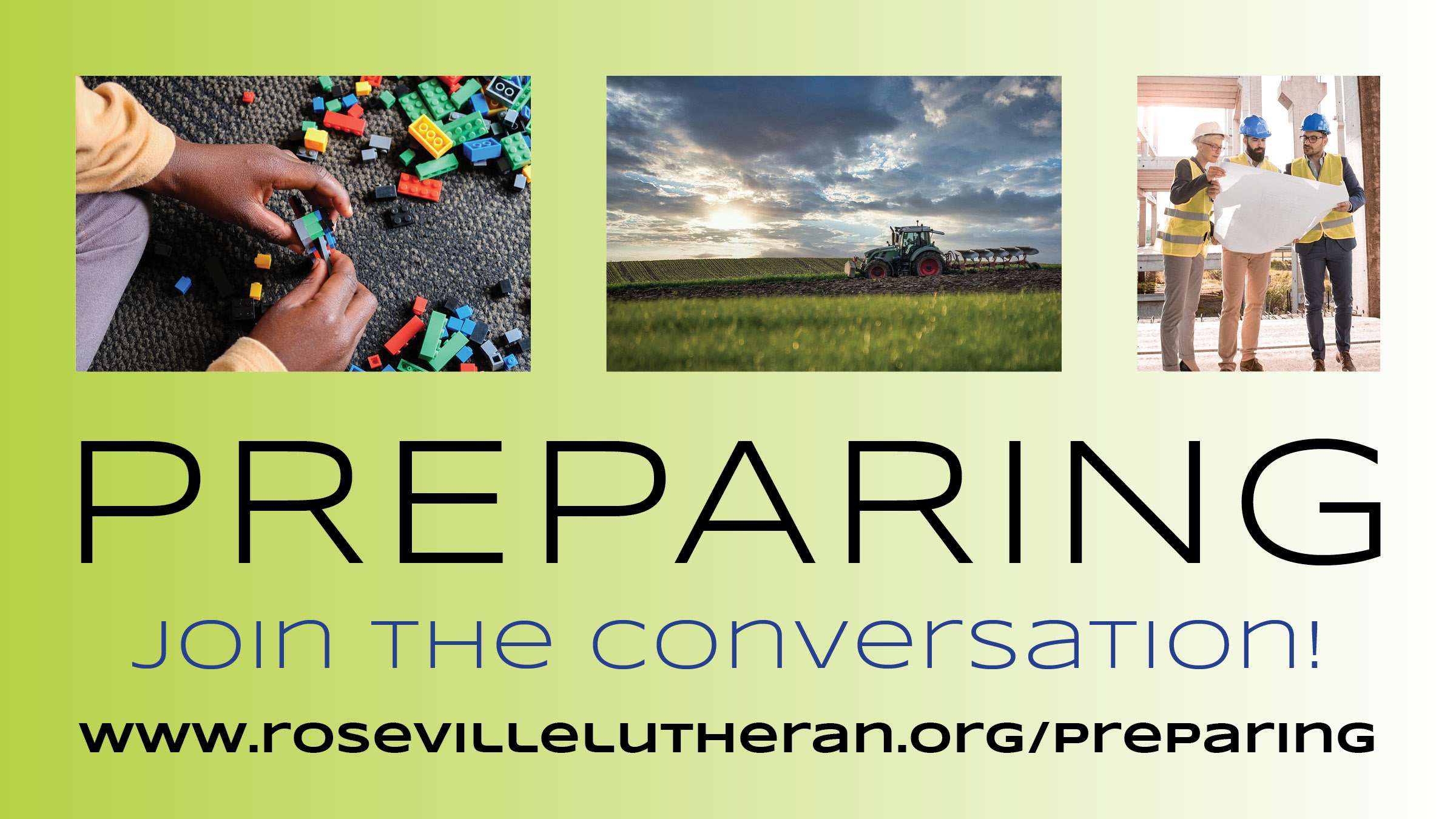 Sunday Themes and Thoughts
Preparing a New Future
January 10 • Luke 3:1-3, 15-22 • The Baptism of Jesus
Preparing a New Purpose
January 17 • Luke 4:14-30 • Jesus Declares His Mission
Preparing a New People
January 24 • Luke 5:1-11 • Calling of James and John
Preparing for a New Way to Live
January 31 • Luke 6:1-16 • Healing on Sabbath, Calling of the 12
Preparing for a New Way to Love
February 7 • Luke 7:1-17 • Healing of Centurion's Slave, Raising of Widow's Son
Preparing a New Vision
February 14 • Luke 9:28-43 • Transfiguration, Rebuking Unclean Spirit