Congratulations, Abby Matter!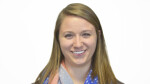 At our Annual Meeting on Sunday, June 25, RLC members overwhelmingly voted to extend a call to Abby Matter as Deacon!
Abby will be consecrated a minister of word and service at RLC on Saturday, August 26, at 3:00 pm. Bishop Patrica Lull will preside at this special worship service.
"Deacons serve in congregations and other ministries of the ELCA, including family ministries, youth, administration, volunteer ministry, social services, music or parish nursing. Deacons connect the church with the needs of the world and work to equip others to lead a living, active and caring Christian life." (from the ELCA website).
For more background about Deacons, read "What's a Deacon?"