Reconciliation is a Lifelong Calling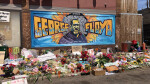 I heard the verdict read while driving yesterday and my heart felt both elated and grieved as each charge was announced. I rejoice in the fact that we can now say, definitively, that George Floyd was murdered. What seemed so obvious to most everyone watching is now non-negotiable. Murder. Case closed.
I also felt grief at the loss suffered by everyone involved in this trial. The Floyd family and the Chauvin family are suffering. George's life cannot be restored.. His case is closed and he rightly found justice in the system, which is a cause for celebration. Derek's life will never be the same. I pray for his safety, his mental health, and his redemption, as he lives with what he has done. I do this because he is not beyond hope. None of us ever are.
I read this statement from Ross Allen, the president of Bethel University:
"In this pivotal moment, it is crucial for each of us to remember that reconciliation is more than a core value—it is a lifelong calling to honor the dignity and worth of all people. Please join me in praying for our community, our city, and our country as we continue to work toward a more equitable, just, and hopeful future for everyone."
If you have this core value of reconciliation in your life please consider how you are walking that out today. How are you allowing for the honor, dignity, and worth of the people you encounter today?
How can we come together to foster reconciliation in our community? How can we partner with others to offer reconciliation to our city and the greater Twin Cities area?
Are we calling injustice by name and exposing it to the light of truth? Are we standing with the oppressed and marginalized? Are we helping those who are part of the problem see the errors of their ways and offering them a loving, safe space to learn, repent, change, and grow?
These are the questions in my heart today. These are things that I am asking myself as I look at my own life. I am sharing them with you because I believe they might be helpful in bringing us together as a people, united in the work of faith, reconciliation, and justice.
– Beth Daniel