Stories of RLC: Karen Organization of Minnesota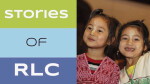 The Karen (kuh-ren) Organization of Minnesota is the first social services agency in the country founded by Karen refugees from Burma. They provide resources to help organizations learn how to work with this growing community. Our RLC tutors help Karen children at Central Park School who immigrated from refugee camps after leaving Burma. We will be getting acquainted with this unique community-oriented culture through a a couple of different events in May at RLC.
Weaving Demo on May 5 from 9:00 – 11:00 am
We have been displaying some artful weaving during April and on Sunday, May 5, from 9:00 - 11:00 am there will be a demonstration of this beautiful craft in our Upper Lobby. Come and see the weavers in action and learn about their art and culture. Then come back the next week:
Learn More on Sunday, May 12

at 10:10 am
Come to the Karen Culture Presentation during our Adult Education Hour on Sunday, May 12 at 10:10 am. Participants will learn an overview of the Karen history, culture, and resettlement in the U.S. We will explore the history of the Karen and how they became refugees, and discuss how the Karen have adapted to life in the U.S. We will briefly cover many things Karen from food, to clothing, to family, to communication styles, and more. Come, learn about our neighbors right here in Roseville!