Stories of RLC: Mission Partner Spotlight – Bridging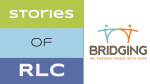 Bridging was founded on one simple, yet powerful idea—that together we can create a bridge between those in need and those with excess. Since the first donated item, Bridging has provided the basic home essentials to over 90,000 families.
Five years ago, William D. was living in a neighbor's lawnmower garage in LA after suffering debilitating seizures following a car crash. When his sister told him he should move up to Minnesota, he came looking for a better life.
"Things were going a little better, for me," says William. "but then my landlord found out I was HIV positive; he kicked me out of my apartment. He said he didn't want sick people living in his house. I fought it, but he turned off the heat, and the house became full of mice. When it rained, it was like a waterfall going down the walls of the house."
After a year of homelessness and a year without furniture, William D. was referred to Bridging through MAPS, a Twin Cities agency that helps people living with HIV and AIDS.
"A person's smile can hide a lot of pain… So many people don't realize that the stuff they have could be someone else's treasure… I am so happy to be able to have this furniture."
For the past two years I have volunteered in the wood shop at Bridging. It has been a great experience. I have gotten to know the staff and am very impressed with their commitment to serving others. Bridging serves a great need within the community and I am proud to be part of their effort. You too should consider assisting that effort, either as a volunteer or as a contributor. You will not regret it.
Jim Roste, Member of Roseville Lutheran
If you would like to volunteer with Bridging or donate items from your household, you can find more information at www.bridging.org.