Stories of RLC: RLC Sunday School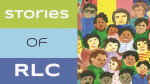 Have you ever made paper? Do you love the smell of fresh baked bread? Gather in the Social Hall on Sunday, April 28 and Sunday, May 5! Everyone is invited!
Sundays April 28 and May 5, we are "mixing it up" a bit by inviting all kids ages 2-102 and their families, AND congregation members and friends to gather in the Social Hall at 10:00 am to learn about spreading the love of Christ everywhere we go! We will mix in some fun projects.
April 28: Come make paper with us! We will infuse it with flower seeds to scatter the ground as we spread Jesus' love.
May 5: We will make bread together, watching it rise as our love of Christ grows. We will share Jesus' love by breaking bread with others.
The joy of working together in community with one another is a powerful experience. Plan to join us for fun and fellowship as we show our youngest, our oldest and every age in between how to spread the word of Jesus to all we meet!
"For where two or three are gathered in my name, I am there among them."
– Matthew 18:20