Storytime - Carryout Camp Week 2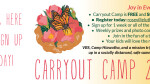 It's week two of our Carryout Camp and today is Storytime. This week's theme is Joy in a challenge. What do you do when you lose something? Today our camp counselors Emma and Kirsten are going to go searching and do a happy dance when they find the lost item.
Don't forget to send us your photo contest pictures!
Storytime: Week Two Carryout Camp
Miss Gena shares a Bible Story - Lost Coin/Lost Sheep
Photo Challenge for Week Two
Don't forget to give your feedback in our congregational survey! Click the image below and fill it out today! Thank you!