Wednesdays in Lent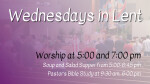 The season of Lent began Feb. 22 on Ash Wednesday.
During the next five weeks, join us for Wednesday Lenten Worship worship at 5:00 and 7:00 pm, along with our Soup and Salad Suppers (serving from 5:00 - 6:45 pm) as we explore what it looks like to follow Christ intentionally, and what it means to step out in faith.
5:00 pm Worship with Communion
7:00 pm Abbreviated Worship
Soup Suppers from 5:00 - 6:45 pm
Click here for menus. You may also order meals to go. (Please order by the Friday before... Feb. 24 for March 1, for example).
Join us Wednesdays March 1, 8, 15, 22, 29 from 5:00 until 6:45 pm in the Social Hall. All meals will include bread and butter, and dessert. There will be a self-service beverage station. Cost is: Adults – $10, Children 6-10 years old – $8.00, Children 5 and under – Free. For your convenience we will be accepting credit/debit cards as a form of payment as well as cash or checks. These suppers will also be available "To Go."
Wednesday, March 8 - 5pm Lenten Worship Livestream
Wednesday, March 1 - 5 pm Lenten Worship Livestream
Ash Wednesday, Feb. 22
5:00 pm Online Worship