Welcome Rick Abbott, RLC Communications Specialist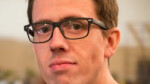 We would like to welcome Rick Abbott as the new Communications Specialist at RLC, taking over duties previously held by Chris Beck. You may have already seen some of his work in the stewardship videos that have been produced in the past two weeks. Welcome aboard, Rick!
Here's a little more about Rick in his own words:
Hello, Roseville Lutheran! I'm Rick Abbott, the communications specialist here at RLC and I'm excited to help tell the story of this great congregation and community.

I grew up in Grand Forks, N.D., and graduated from Minnesota State University Moorhead with a degree in Mass Communications and an emphasis in photojournalism.

I bring a different background to my position here at RLC, with most of my experience coming from the field of news, both television and in print. I first started working in TV while in high school, starting behind the scenes in production before becoming a producer, helping to write and edit video for newscasts.

After graduating from MSUM, I worked as a digital producer and later reporter at The Forum in Fargo. I was honored to win a first place award for breaking news coverage in 2015 from the Minnesota Newspaper Association.

Wanting a change of pace and to finally move to the Twin Cities area, I was happy to accept the position here in Roseville. It's a welcome difference from writing and photographing crime scenes, fires and accidents. Instead, I get to be creative in how we tell the story of RLC and its members, using video, photography, graphic design and writing.

During our stewardship campaign this fall, I completed a series of video interviews with RLC members on how and why they continue to support our ministry. You might have seen those online or in a worship service! With the church's 75th anniversary coming in 2017, we're working on some very exciting projects to highlight our history, so stay tuned!
Please drop me a line at 651-288-4222 or