Welcome Rolf Olson, New Visitation Pastor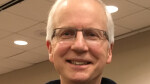 Welcome to Rolf Olson, new Visitation Pastor for RLC.
Pastor Olson started his time with us on January 1, 2018. Here's a little bit of background from him:
I'm a Mankato boy—born there 63 years ago and graduated from Mankato High in 1972. After 4 years at St. Olaf and 5 more at Luther Seminary I began my first call in Beloit, Wisconsin, in 1981. Nancy and I were married in 1978. She is an English teacher at Tartan High School in Oakdale.
We raised three wonderful children. Our oldest is Sarah, who many RLCers know as Sarah Richter (and the mother of three active children). Sarah and Doug have been members of RLC for over a decade so we know a fair amount about the church. Our son, Karl, is a psychiatric nurse practitioner in the metro, is married, and the father of a little boy. Katherine, our middle child, died in 2007.
I served churches in Beloit, Wisconsin (Our Savior's); Duluth (First), Cottage Grove (All Saints), and Minneapolis (Richfield). As of July 23, 2017, I was retired. But as of January 1, 2018, I am your visitation pastor. I am grateful for this wonderful opportunity to serve God—near our new (old) house in Falcon Heights and in the same congregation as my family. When I am not here you might find me on the golf course, in a trout stream, tending to my vegetables, at the gym, or in the snow skiing.
I look forward to meeting you and joining with you in serving our Lord.