Window Shopping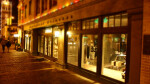 While chatting with a friend this week I was describing a painful emotion I was having and how I was handling it. She praised me for "window shopping" that emotion. That made me really stop and think! Emotions are temporary and they don't always tell us the truth about ourselves. My emotion was informing me that I was unworthy of mercy and it felt like a heavy weight on my shoulders. Window shopping that emotion meant that I looked at it, even picked it up and felt it, but then I put it back on the shelf and returned to the core truth of my life, which is that I am the child of a great and merciful God and I am worthy of love and belonging.
I believe that it is important that we experience our emotions, stay curious about them, and allow them to inform us about ourselves. I also believe that we have to understand that not all of them are meant to be held onto forever. Psalm 30:5 says, "Sorrow may spend the night, but joy comes in the morning." (Holman Christian Standard Bible) This is a wonderful illustration of window shopping an emotion. We walk by sorrow, gaze at it, maybe even try it on or give it a thirty-day test drive, but we don't buy it. We put it back on the shelf, or drive it back to the lot, and return to joy.
I would ask you to consider what you need to "window shop" in your own life. What emotions or situations do you need to put back on the shelf or give back to God? If you are not sure then spend some time in prayer and ask the Holy Spirit to reveal what things it might be time to return so you can move on from window shopping and live fully in the truth of who God created you to be.
Beth Daniel
RLC Administrative Assistant