Podcast - Angela Denker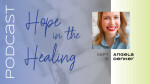 Sign up now for the online discussion with Pastor Lauren on the following Sunday at 7:00 pm.
September 18 - Angela Denker
Angela Denker, author of Red State Christians: Understanding the Voters who elected Donald Trump (Fortress: August 2019), is a Lutheran Pastor and veteran journalist who has written for Sports Illustrated, The Washington Post, Christian Century, and Christianity Today. She has pastored congregations in Las Vegas, Chicago, Orange County (Calif.), Minneapolis, and rural Minnesota.
To write Red State Christians, Angela spent 2018 traveling across America to interview Christians and Christian leaders in red states and counties. While spending time with the people in her book - and her own loved ones living in red states and counties, she found surprise, warning, opportunity and hope. In retelling those stories, she hopes to build empathy and dialogue without shying away from telling hard truths about the politicization of religion and the prevalence of Christian Nationalism in churches across America.
(This speaker series has been funded through a gift by the Roseville Lutheran Church Endowment Fund.)