Service of Lament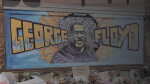 On June 2, 2020, we shared in a Service of Lament. This prayer service was shared with the congregation, and is available here, too.
Our collective hearts are grieved by the killing of George Floyd this past week. This past week has seen so many deaths. The death of a man whose breath was strangled from his lungs as he cried out, "I can't breathe!" The death of over one-hundred thousand whose loss of breath became death due to Covid-19. The strangled death of a city, caught in the fires of destruction.
George Floyd's plea of "I can't breathe!" has become the cry of all those who live with injustice, racism, and a life of inequity. We, as a people of God, are called to respond. Called to give voice to our neighbors. Called to be a community that is not only united by grace, but united in voice against injustice, hatred and racism. We are called to be a people who name the evils of white supremacy; a people who not only speak out against violence and hatred but link arms with our neighbors to provide safety and equity; a people who name and call out the systematic racism that is prevalent in our communities, and work to change it for good.