What Does Our Christian Fatih Say about being a Citizen?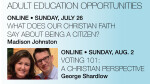 Sunday, July 26 - Madison Johnston
What Does Our Christian Faith
Say About Being a Citizen?

In the face of a national election, we will dig into the origin story of government as we know it according to Scripture. Then, we will explore together what it means to live out our faith and to be in relationship with God in the political arena today.

Madison Johnston is a financial advisor at Thrivent. She earned a Master of Divinity at Princeton Theological Seminary with a focus on Lutheran Studies. A friend and fan of RLC, Madison serves as a preacher at Calvary Lutheran in Edina.