Roseville Lutheran answers Jesus' call to care for those who are hungry, or need clothing or shelter, or those who are sick whether they live next door or far away. Our efforts are multiplied by connecting with nonprofit organizations who share our common mission. We connect with and support these agencies financially through funds that we set aside from all general giving and by the donations of material goods such as school supplies.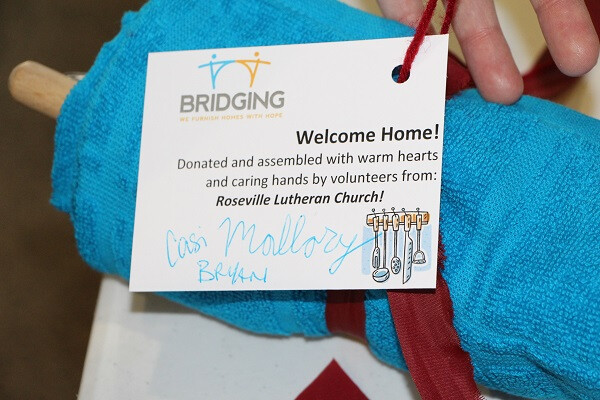 RLC connects with these local partner agencies:
The Loaves and Fishes program at the Dorothy Day Center in downtown St. Paul serves a daily meal to all who come. RLC serves one meal a month, click here for info and to sign up.
The Meals on Wheels program operating out of the Fairview Community Center in Roseville delivers daily meals directly to the homes of those who need help with meal preparation. RLC volunteers deliver meals every 3rd Friday.
The Bridging Organization helps families recover from homelessness by providing home furnishings and supplies. RLC hosts a dresser build event in the Fall.
The Dwelling Place provides safe emergency housing for mothers and their children.
Project Home provides shelter for homeless families. Each February RLC hosts these families.
Roseville Area Angel Assistance Fund provides emergency funds for housing. RLC and other Roseville area churches work together with Keystone Community Services to administer this special fund.
RLC Preschool Tuition provides financial assistance to families so that the children can begin their education at an early stage.
Growing Thru Loss provides counseling to help families dealing with the death of a family member.
Banyan provides educational and recreational activities in a Christian environment for children and youth in the Phillips neighborhood of Minneapolis.
PCYC (Plymouth Christian Youth Center) provides educational and recreational activities in a Christian environment for children and youth in the Plymouth neighborhood of Minneapolis.
MORE provides educational assistance to recent immigrant families in St. Paul.
The Hospitality Center for Chinese provides educational and social activities in a Christian environment to the Chinese population in St. Paul.
The Sheridan Story project provides bags of food for children at Central Park Elementary School. RLC members/friends volunteer 12 times per year to help with this project. You can help!