Update from Pastor Lauren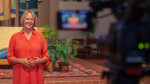 Dear Members and Friends of Roseville Lutheran Church,
Thank you for your participation at Roseville Lutheran's Annual Meeting, held on Sunday, August 23rd. We had just over 150 members join us for this time of conversation, questions and reports and had overwhelming support in passing our budget for July 2020 - June 2021.
A couple of highlights from the Annual Meeting:
Nominations: Welcome to
Rebecca Field, Executive Council
Kevin Hansen, Council
Mary Peterson, Council
Heidi Larson, Council
Michael Dolan, Endowment Committee
Greg Johnson, Endowment Committee
Bill Metzger, Endowment Committee
Judy Ekern, Endowment Committee
Kevin Peterson, Endowment Committee
Georgia Nygaard, Adult Education Chair
Randi Lundell, Nominating Committee
Cindy Bjerk, Nominating Committee
We also give thanks for those who have served us both on council and committees over the past year. Your work is essential to our shared ministry and your gifts given greatly appreciated.
Focus for the Upcoming Year
While we are not meeting in person there is still much work to be done as we continue to live into our vision and mission: "Love God. Love your neighbor. A community united by grace."
Constitution and Bylaw Task Force
In September a dedicated group of members will convene as the "Constitution and Bylaw Task Force." Their work includes:
Recommendations for constitutional and bylaw changes to be presented at our 2021 Annual Meeting
Recommendations for a committe / council / team structure that is relevant and consistent with best practices as well as creating a structure that is engaging and speaks to our mission and vision and values
Director of Development
In May 2020, the church council approved a position of Director of Development. An interview team is being put together and will search for a candidate who will help us continue to tell the story of the mission of RLC and create new opportunities for supporting and sustaining our shared ministry. This position will work closely with staff, volunteers and lay leaders in education, engagement and development of stewardship programs.
Associate Pastor Position
Over the next few months I will be working with staff, council and lay leaders to dream and vision what our needs are for our next pastor. As we move forward with these conversations we will be keeping you informed where we are at in the process. I continue to work closely with Bishop Patricia Lull of the St. Paul Area Synod in this process.
Reentry plans for our ministries
We continue to work towards a gradual plan of re-entry. For the fall season, all educational opportunities will remain online only. We do invite you to participate in the upcoming in-person worship opportunities:
Small Groups - 40 Days of Community
We also invite you to participate in our small group book study, "40 Days of Community" by Rick Warren.
Back to School Blessings - Wednesday, Sept. 2
The end of summer has always meant two things: the Minnesota State Fair, and heading out to purchase school supplies, backpacks and new fall clothes. With many of our students, teachers and educators working with a variety of models for instruction this year, there is a lot of uncertainty and anxiety. Join us Wednesday, September 2nd online at 7:00 for "Back to School Blessings." This is a special time of prayer, blessings and songs.
I close with the following prayer...
Prayer
Gracious God, the one who calls us together to be the church, inspire us and lead us in new ways in the year ahead. Move within and among this community of faith and strengthen us in ways we hope for and in ways we do not expect. Amen